Camping as it should be
Your camping season won't be complete without a stay at the Wisconsin Riverside Resort.
Book your stay today and beat the rush!
Closed for the 2020 Camping Season
2021 Reservations: Call 608-588-2826
We look forward to assisting you with your camping reservations.
Camping Reservation Policy
Deposit Policy: Charge for full reservation per site at the time of the reservation. Non-refundable within 7 days of reservation.
Prior to 7 days the customer can cancel with the following fees: Tent: $20 fee, RV: $30 fee and Cabin: $50 fee.
Helpful tips and information regarding our campground:
Reservations strongly suggested on weekends!
The cottage is not available for the 2021 season.
If you would like a site closer to the pool or swim pond, but you have a tent, you will just need to reserve an RV Site. It is Ok with us!
All full hook-up RV Sites have water, sewer & electric (20, 30 & 50 amp)
Big Rig Friendly Sites
All RV sites include a concrete patio pad, fire pit & a picnic table
Current campers can make reservations 1 year in advance for the same site and same date/weekend of the following year.  Your site will open up to the public at noon on your check-out date.  We encourage campers to reserve for next year any time after check-in.  If you want to reserve for next year, but you would like a different site, please inquire with our staff and they will let you know when that site becomes available.

SITE RULES: 
• Only one camping unit and 2 or less vehicles
• 2 adults and 4 children 18 & under or up to 4 adults
• Must be 21 years of age with a valid driver's license/ID to make a reservation and camp
• Children must be at their site or with parents after 11:00 pm
• Foul language is not permitted in public or where it can be heard by other campers
• No music outside permitted after 10:00 pm
• Children under 14 must not be left alone in the campground at any time
• Friends/family can visit and there is a charge
• Respect your neighbors
• Don't walk through neighboring campsites
• Keep voices and music levels respectful
• Treat your neighbors like you would like to be treated 
6 person maximum
For Pop-ups, RVs, Travel Trailers & More
Riverside, Back-Ins & Pull Thrus
6 person maximum
Electric & Non-Electric sites available
Picnic Table & Campfire Ring
Sleeps 5-6
Toilet, Fridge, Microwave, Sink, TV
A/C, Heat, Fire Pit, Picnic Table & Grill
Water, Sewer & Electric
Camping Season is April 15-October 15
Picnic Table & Campfire Ring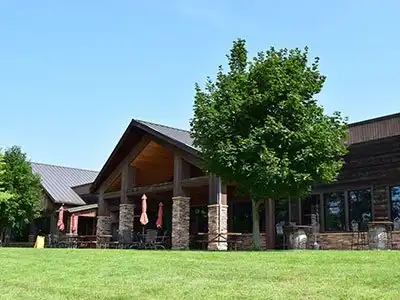 Campground Amenities:
2 Restroom/Shower/Laundry Facilities
Bait & Fishing Supplies
Swim Pool & Splash Pad
Game License Sales
Fishing
Sinker's 18 Hole Mini Golf
Bar & Restaurant
Liza's Lagoon
Gift/Convenience Store
Canoe, Kayak and Tube Rentals
WiFi
CAMPGROUND POLICIES:
POOL PRIVILEGES:  POOL IS FOR REGISTERED GUESTS ONLY.  Wristbands must be worn to access the swim pool.  As per state law, no child under the age of 14 year is permitted in the pool or pool area without responsible adult supervision.  No adult may supervise more than 5 children simultaneously at the pool or in pool area.  You are responsible for following all pool rules posted at the pool. Liza's Lagoon is a separate fee, not included in camping fees.  
QUIET HOURS:  Quiet hours are observed from 11:00 pm to 8:00 am.  All radios, stereos and any other outside audio equipment must be turned off during this time.  No golf carts are permitted to be driven in the campground from 11pm to 8am.
BIKES: No bikes, roller blades, skateboards, golf carts etc. on sidewalks, patios and under pavilions.
ALCOHOLIC BEVERAGES:  No glass bottles allowed outside your campsite. No glass at pavilions, patio or in the pool area.  We will not permit under-age drinking.
CAMPFIRES:  Each site is supplied with one fire ring.  Campfires must be attended at all times.
PETS:  All pets that are brought into the campground must be fully vaccinated.  Pets are not allowed in any of our buildings, restrooms and pavilions.  You must clean up after your pet both on and off your site and dispose of this waste at your campsite.  Excessive barking will not be tolerated, and your pet must be in a pen or on a leash anytime it is outside your camper.  If your pet becomes a problem, we may ask you to remove it from the campground. Service Animals– Animals providing a service to a disabled camper are permitted.  "Comfort animals", "Emotional Support Animals" or other animals are not permitted in any buildings.
FIREWOOD:  Outside firewood further than 25 miles is not permitted in the campground by state law in order to prevent the infestation of gypsy moth larva and emerald beetles.  Firewood can be purchased at the store.  Gathering of firewood from other sites is not permitted, nor the cutting, snapping or breaking of trees.
FIREWORKS:

 Fireworks are not permitted anywhere on the property.

GARBAGE/RECYCLING:  Clean up your site before you leave. Dumpsters are available for your use.  Do not leave garbage on the side of the campground road.
GOLF CARTS, ATV'S & OFF-ROAD MOTORCYCLES:  Golf carts are only permitted in the campground from 8am to 11pm only.  Golf carts must be insured.  No person may operate a golf cart unless that person has a valid driver's license issued by Wisconsin, or, by a State or licensing authority recognized by Wisconsin, and has liability insurance in force covering the golf cart being operated.  ABSOLUTELY NO ATV's or off-road motorcycles will be permitted in the campground.   Motorcycles that are licensed, insured and registered are permitted.
PHOTOGRAPHY:

  By signing this contract you give Wisconsin Riverside Resort the right to use your picture or any persons named in your site's picture without compensation to the individual.

REMOVAL:

 The Campground may, for any reason in the Campground's sole discretion, require all or some of the campers to leave the Campground.  In the event the Campground directs the guest to leave, the guest agrees to leave peacefully and immediately. 
Campsite Map
Click image below to view as a PDF.