2023 CAMPING SEASON: April 15 –  October 15 (weather permitting)
For 2023 reservtions please call 608-588-2826 ext. 1 or book online.
Camping Reservation Policy
Deposit Policy: Charge for full reservation per site at the time of the reservation. Non-refundable within 7 days of reservation.
Prior to 7 days the customer can cancel with a $30 fee for RV reservations.
Helpful tips and information regarding our campground:
Reservations strongly suggested for weekends.
Current campers can make reservations 1 year in advance for the same site and same date/weekend of the following year.  Your site will open up to the public at noon on your check-out date.  We encourage campers to reserve for next year any time after check-in.  If you want to reserve for next year, but you would like a different site, please inquire with our staff and they will let you know when that site becomes available.
Check-In/Check-Out Details:
Check-In: 1 pm
Check-Out: 12 pm
Pricing and Policies
Standard RV full hook-up site price is based on 2 adults & 4 children under the age of 18 or 4 adults. Each additional person will be charged $10 per person, per night with a maximum of 6 people per site as required by state law. We allow no more than 4 adults per RV site. Standard site includes 1 camping unit and 2 vehicles. 
We must know the number of people who are camping.
All pop-ups, RVs, travel trailers, etc. must reserve on an RV site. **No Exceptions!**
5″Big Rig" Camping – Groups Welcome
| | Apr 15 – May 21 | May 22 – Sept 4 | Sept 5 – Oct 15 |
| --- | --- | --- | --- |
| Weekday | $47 per night | $52 per night | $47 per night |
| Weekend (2 night min) | $52 per night | $67 per night | $52 per night |
| Holiday (3 night min) | NA | $77 per night | NA |
Riverside RV Sites
| | Apr 15 – May 21 | May 22 – Sept 4 | Sept 5 – Oct 15 |
| --- | --- | --- | --- |
| Weekday | $52 per night | $62 per night | $52 per night |
| Weekend (2 night min) | $59 per night | $77 per night | $59 per night |
| Holiday (3 night min) | NA | $82 per night | NA |
Campsite Map
Click image below to view as a PDF.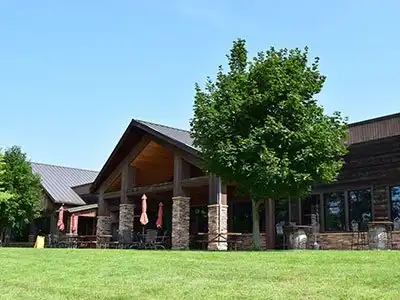 Rules and Regulations
Quiet Hours: 11 pm – 8 am
One camping unit per site

Two vehicles allowed per site. Gate barcodes will be provided upon check-in for access at our main entrance.

Wristbands must be worn to access the swim pool, free mini golf and discount to Liza's Lagoon
No glass bottles allowed in the campground, pavilion, on the patio or in the pool area
Clean up your site before you leave. Dumpsters are available for your use
Respect your neighbors. Treat your neighbors like you would like to be treated
2 adults and 4 children 18 & under or up to 4 adults
Must be 21 years of age with a valid driver's license/ID to make a reservation and camp
Children must be at their site or with parents after 11:00 pm.  Children under 14 must not be left alone in the campground at any time
No bikes, roller blades, skate boards, golf carts etc. on sidewalks, patios and under pavilion
No fireworks
No off-road vehicles including ATV's, go-carts and mini bikes. Electric and gas golf carts are allowed with proof of insurance.
GOLF CARTS:  Golf carts are allowed and to only be used in the campground from 8:00 am-11:00 pm. Golf carts must be insured. No person may operate a golf cart unless that person has a valid driver's license issued by Wisconsin or, by a State licensing authority recognized by Wisconsin.
All pets that are brought into the campground must be fully vaccinated.  Pets are not allowed in any of our buildings, restrooms, on the patio or pavilions.
Other Amenities
2 Restroom/Shower/Laundry Facilities
Swim Pool & Splash Pad
Fishing
Bar & Restaurant 
Gift/Convenience Store
Bait & Fishing Supplies
Game License Sales
Sinker's 18 Hole Mini Golf
Liza's Lagoon
Canoe, Kayak and Tube Rentals
WIFI